While the evening became gradually more gloomy and damp outside, the space within the walls of AQUA abounded in warmth and excitement as over 85 supporters of Team Rohan Guild came together for a night of food, wine, and company.
Taking place annually on the first Friday of September – Childhood Cancer Awareness Month – An Evening of Hope aims to help create awareness and raise funds for pediatric brain tumor research at Seattle Children's Hospital. Attendees of An Evening of Hope, which takes place at AQUA by El Gaucho, have an opportunity to bid on some of the world's finest wines in a silent auction that lasts through the evening, while also enjoying some of the restaurant's favorite hand-picked appetizers and wine. For many attendees, however, the highlight of 2018's Evening was not the exceptional wine and food pairings, or even the waterfront venue itself, but the opportunity to interact with the people for whom Team Rohan Guild exists: families who are affected by pediatric cancer, and the doctors and scientists who commit their lives to ending cancer's existence.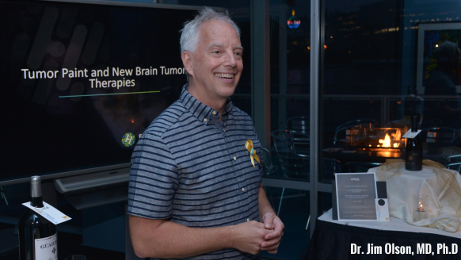 By the night's end, 2018's An Evening of Hope raised over $30,000 for pediatric brain cancer research. As was shared by renowned researcher and pediatric oncologist Dr. Jim Olson, despite the fact that the field of pediatric brain cancer is severely under-funded in comparison to other fields of cancer research, it is the ongoing efforts of local organizations and community support that make the relentless work and challenging goals for doctors and researchers worthwhile and attainable.
Every day, 12 children in the U.S. alone are diagnosed with brain tumors. Of those 4,200 children diagnosed each year, fewer than 20% will survive their battle. While brain cancer affects children and adults alike around the world, tumors that form in pediatric and adolescent brains are substantially different and more threatening than those found in adults. Consequently, pediatric brain cancer requires specific research and different treatment modalities that are crucial in saving children's lives and improving their quality of life.
As awareness of, and funding for, pediatric brain cancer continue to increase in attendance and support, so too does the HOPE increase of Team Rohan Guild, to not only successfully treat children with brain tumors and improve their quality of life, but to ultimately prevent tumors from forming in the first place. An Evening of Hope is an opportunity for us to embody a glimmer of that same hope – for those children who are already battling such tumors, and for the children in the future who – by our unconditional commitment – will never have to face the battle, period. It is the love of every child and parent, and the memory of our sweet and courageous Rohan, that invite us into An Evening of Hope.